Admittedly, winter biking requires a nudge. It's cold out. A fire, blanket and hot cocoa beckon. So how can you stay committed to kicking the car to the curb when temps dip? It comes down to riding in comfort, with confidence and - for e-bikers - winterizing right. Here's how.
Dress Smart
Don't layer up like a Michelin Man. Dress to be somewhat cold initially, with assurance you'll warm up once riding. A synthetic or wool base layer wicks moisture from your body, while a shell jacket and pants, like the Pearl Izumi's Barrier WxB repel moisture from the outside. And careful not to skimp on gloves, arguably your most important winter riding accessory. We like Scott Winter Gloves (call us to order, now in stock!). They're warm, reflective, and offer finger dexterity for braking, shifting, and touchscreens.  
Light the Way
Here at Oregon E-Bikes, it's often dark on both ends of our winter commutes. But we don't ride by braille, we simply strap the Knog Blinder Road 400 light to our bars, and the Blinder Road R70 to our seatposts. For added safety and flair, slap the Nite Ize Slap It LED wrap around your right pant leg to keep your trousers clean and motorists steering clear. The more visible you are, the more confident you'll feel — a big deal in stoking your fire for winter riding.
Accessorize 
Of all the aftermarket bike accessories available, we've found fenders, winter-specific tires, and waterproof cargo bags to have the biggest impact on riding in the cold. Fenders like Muckynutz Fat Face Fender keep mud and road grime off your bike, you, and your suspension forks. The latter preserves a smooth ride. Tires such as the Continental Top Contact Winter II keep you upright even when the blacktop turns white. And a pannier bag, likeBanjo Brothers Waterproof Pannier, keeps your groceries or extra layers dry.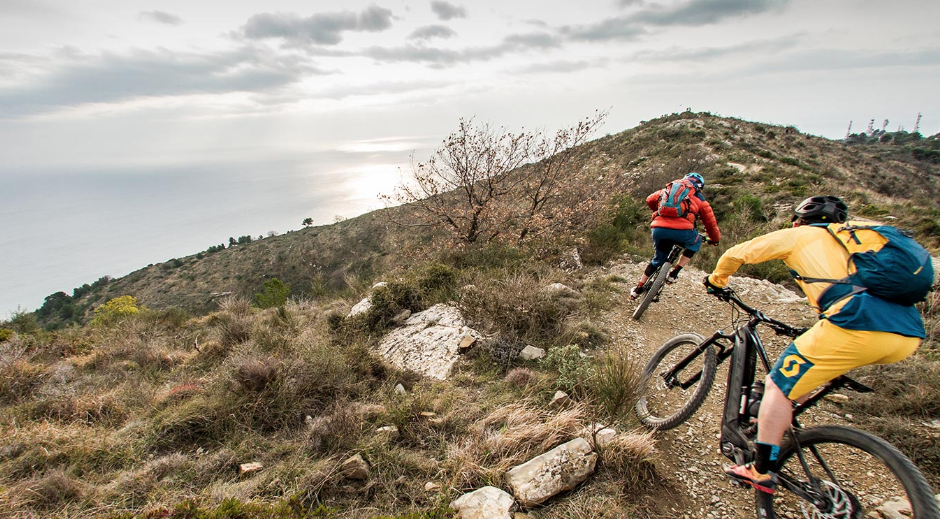 Winterizing Your E-Bike
To keep your e-bike running efficiently, bring your battery and head display unit inside when not in use. Lithium Ion batteries don't like to be cold, and will discharge at a much quicker rate in temperatures below 40 F. Also, store your e-bike in the garage or covered area if possible. Big temperature swings promote condensation in your cables, bearings, and other vulnerable areas. If you're not able to stow your e-bike inside, note that cold temps affect liquids in your bike like tire sealant and lube, as well tire pressures. Before heading out, give your e-bike a quick pre-ride inspection. Roadside repairs in the wet are especially unpleasant. Our last bit of advice, ride happy! It might not be 75 and sunny, but you're on a bike!
Dan Bye is Oregon E-Bike's chief mechanic. With help from his dad, he built his first mountain bike in fourth grade. He's been spinning wrenches officially for eight years as a DT Swiss certified wheelbuilder as well as United Bicycle Institute certified suspension technician.