Riese & Müller Electric Bikes Packster 40 Vario | Testcenter
Regular price
$8,518.00
$8,518.00
Sale
This Testcenter bike will be released July 1st. Note that eCargo bikes ship by quote and are not eligible for free shipping promotions. Racing red, carry system with child seat and rain cover, comfort kit, dual battery setup and additional chain lock. Now taking deposits, call to put your name on this Packster 40 Vario today!
Available for sale starting July 1st, call to put your name on this demo bike today!
The Packster 40 series offers big possibilities with a small frame. At 2.23 meters it is only slightly longer than a conventional bike, despite its large cargo area. It is easily stored, weighs less than 66 pounds and is surprisingly agile. Don't let that fool you, though - the permitted overall weight of 353 pounds gives you the freedom to load the Packster up! With a height-adjustable stem and saddle, the Packster 40 fits different body heights in the blink of an eye.
The optional child seat allows you to convert the cargo area into a comfortable seat, along with a padded 5-point belt for safety. The upright seating position facing the rider is a great way to keep connected to your valuable cargo along the way! The seat cushion of the child seat can easily be folded into its footwell to create an on-the-fly cargo surface while keeping the cushion dry.
Customizing your Packster 40 to suit your own needs is easy! A rundown of your options is below, and we're always here to provide advice and help configure your dream cargo bike.
SmartphoneHub display ($118). The Bosch SmartphoneHub and app turns your smartphone into a display, combining the functions of smart navigation with live weather, fitness data and more. Other services and apps on your smartphone, such as music playback, can be controlled at the same time. It also works without a mobile phone: in this case, a display integrated into the cockpit shows key riding data.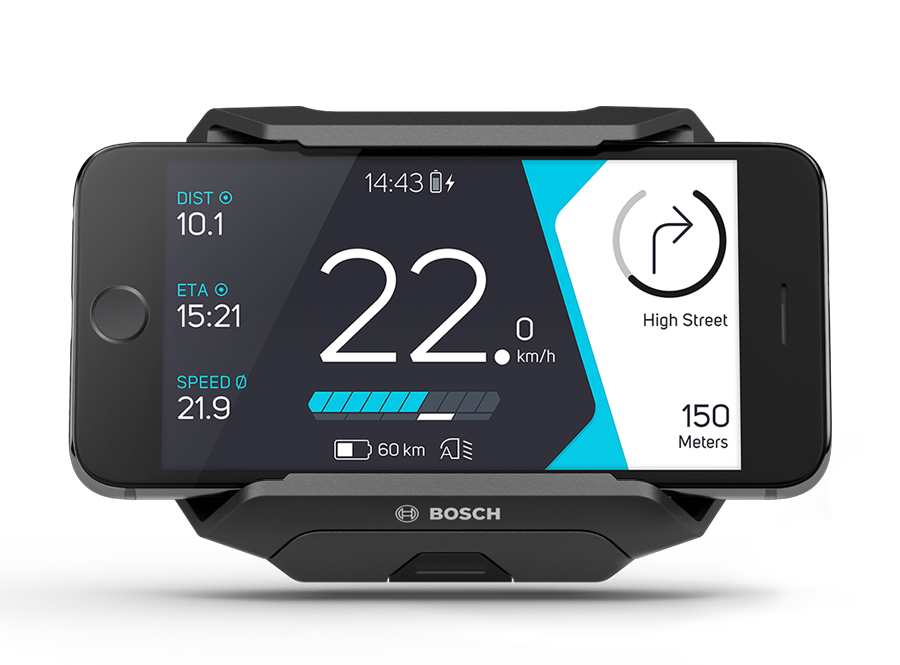 DualBattery 1000Wh ($1059). Double your available range by adding a second Bosch 500Wh battery.
Carrier ($153). Rear pannier rack. Standard with all HS models.
Comfort kit ($0). Includes comfort handlebar, higher stem and wider saddle. Not available for HS models.
Box ($177). Coated wood box with side walls that can be removed or folded down. Perfect for four-legged friends!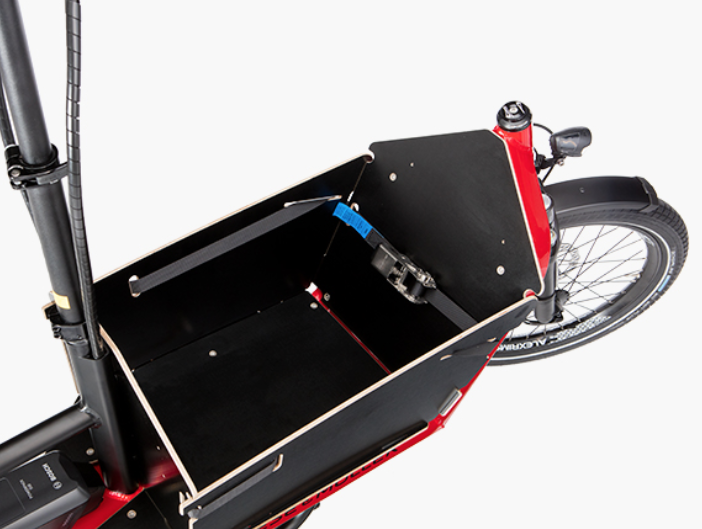 Carry system ($236). Study metal framework with upholstered side walls made of weather-proof and water-tight Cordura material. Required when fitting a child seat.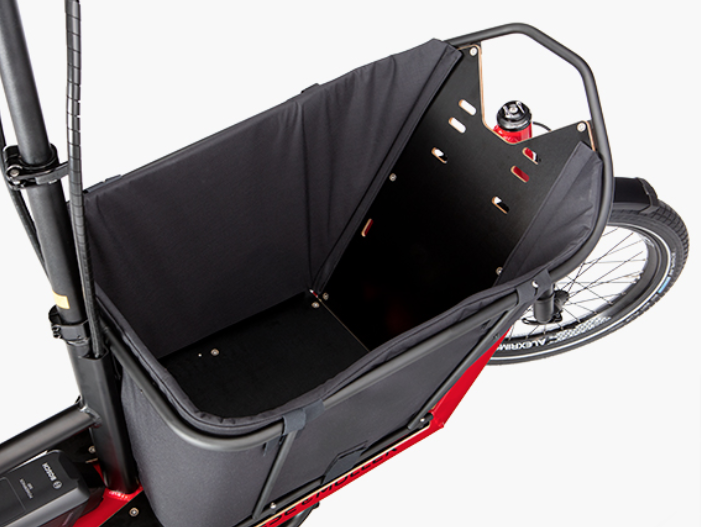 Glove compartment ($106).  Lockable glove compartment built into the cargo area. Perfect for your valuables, personal items and bits and bobs.
Tarpaulin ($106). Strong, weatherproof tarpaulin to conceal your cargo and protect if from dirt and rain.
Child seat ($177). Comfortable height-adjustable child seat for a small child, with a padded 5-point belt for maximum safety. Only available in conjunction with the Carry System.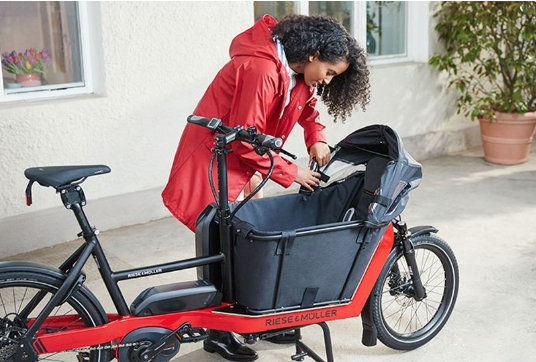 Glove compartment and tarpaulin ($212). Strong tarpaulin for cargo concealment and protection. Lockable glove box built into cargo area for valuables, personal items and bits and bobs.
Child cover ($236). Strong child cover keeping dirt, rain and stones away from your most precious cargo. Partial opening lets cool air flow through during the summer.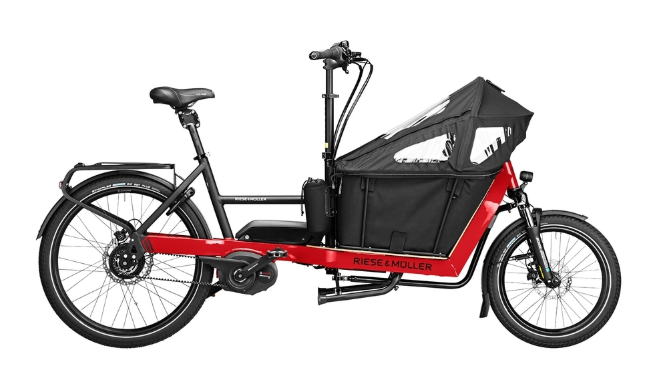 Child seat with tarpaulin ($283). Child seat + tarpaulin, only in conjunction with the Carry System.
Glove compartment and cover ($341). Strong cover keeping rain and dirt away from cargo, along with the lockable glove box built into the cargo area.
Child seat with child cover ($412). Child seat + child cover. Only available in conjunction with the Carry System.
Additional 130cm chain lock w/ bag ($59). 130cm long Abus chain that can latch onto the frame lock and quickly attached to the nearest convenient location. A thickness of 6mm ensures a high level of anti-theft protection. Frame lock, chain lock and battery lock all use the same key.
$200 - Ready-to-Ride! Our ready-to-ride shipping program is a win-win. Your bike will come with the front wheel and handlebars installed, and you'll just need to twist the handlebars upright, tighten the stem bolts, and install your pedals.
Riese & Müller bikes - Free. If you are purchasing a Riese & Müller e-bike, you're in luck! You'll be automatically enrolled in the Ready-to-Ride shipping option, at no charge. Enjoy a savings of $200+, and get riding as soon as possible!
Cargo bikes & used bikes - by quote. We are happy to run a shipping quote for you and work toward the most cost effective delivery method for cargo bikes and used bikes. Our Shipping Manager Jenn is a miracle worker!
View Details
Out of stock

210000003066