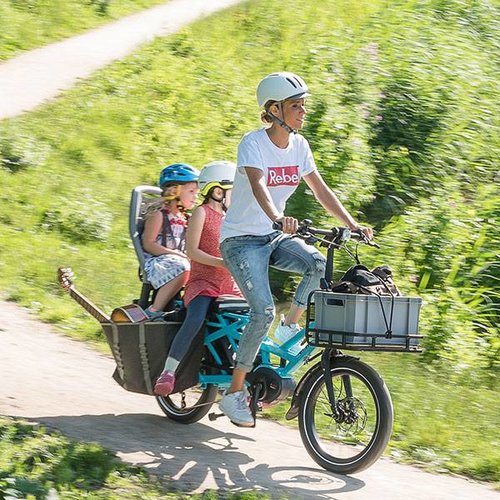 Electric Cargo Bikes
Get you and your family where you want to go. Shop our collection of Yuba & Tern cargo bikes now and receive free shipping, 24/7 roadside assistance, and more.
Add to cart
GSD Electric Utility Bike
The GSD is designed to carry two kids, a week's worth of groceries, or 400 lbs of cargo, but it's only 6 feet long—the same length as a standard ebike. Now accepting pre-orders for Spring 2018 - get yours today!
Add to cart
Load Nuvinci HS
Effortless to handle even with kids or cargo. Fully charged with the Bosch Performance Speed motor (28mph), NuVinci hub gear, Tektro hydraulic disc brakes and Control Technology with full suspension. Time to sell the car!
Add to cart
Spicy Curry Electric Bike
Perfect for cruising up hills or pedaling long distances with your loved ones in tow. Now with the ultra-reliable, ultra-smooth, ultra-powerful Bosch system!
Add to cart
Load Nuvinci
Handle even the most challenging of tasks with The Load Nuvinci, thanks to the Bosch Performance CX motor and ultra-smooth NuVinci hub gear. Top it off with the cushy Control Technology and you're set to cruise!
Add to cart
Load Touring
With the best solution for your individual transport needs at your fingertips, to accommodate your very own lifestyle, you'll be happy to leave your car in the garage. Thanks to the Bosch Performance CX motor, the Shimano Deore XT 11-speed derailleur gear
Add to cart
Load Touring HS
Get to where you're going quickly, comfortably and safely. All of the great features of the Load Touring, PLUS the Bosch Performance Speed motor for assisted speeds up to 28mph. Woohoo!
Add to cart
Benno Boost E 10D Step Through
Benno has made a one-of-a-kind electric bike with the Boost. Compact, sturdy and versatile, the Boost will leave you looking for excuses to ride. Fully equipped with the Bosch Performance Line system.